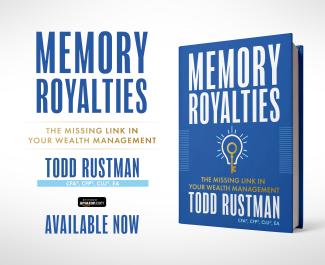 Announcing Memory Royalties!
We are thrilled to announce the official publishing of our Managing Partner, Todd Rustman's, new book: Memory Royalties. This fantastic read takes the intangibles of wealth management and brings them front and center when it comes to creating a fulfilling life. Having money doesn't necessarily mean happiness. There are key aspects to life, such as creating memories and building a legacy plan that ensure your loved ones are cared for, even if you're not around. Todd explains his own journey into Wealth Management and how the things he's learned from his clients allow for others to not make the same mistakes. One of Todd's favorite lines to share with our teams is: "let's only make new mistakes.". 
Congratulations, Todd! Your Clarity Team is SO proud of you!
To find your own copy of #MemoryRoyalties, simply CLICK HERE.